Sweetness of True Love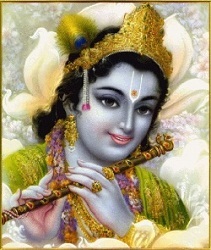 One day, Sri Krishna visited his friend, Uddhava, who was not home. Uddhava's wife was dumbfounded by his arrival and wasn't able to think properly. Sri Krishna entered and asked for a seat. Uddhava's wife hastily provided him with one.
Sri Krishna asked Uddhava's wife for something to eat. In a flurry, she gave him some water and also some bananas. She sat at his feet and fed him bananas one-by-one. But, in her state of confusion, instead of feeding him the banana, she threw the fruit away and fed him the peels. At this juncture, Uddhava entered and was greatly vexed to see this strange thing happening.
Upon his enquiry, she came to her senses and asked for Krishna's forgiveness. Uddhava asked her to go inside and started feeding Sri Krishna himself. He did the right thing by feeding him the bananas while throwing away the peels. Sri Krishna told Uddhava that the bananas were incredibly sweet, but he also added that the peels tasted better
Related content