Story of Shirdi Sai Baba's death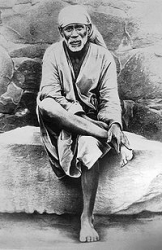 Ramachandra Patil, a disciple of Shirdi Sai Baba was sick and the medicine wasn't helping. he was very tired and was anticipating death. One night he saw his guru in a dream standing near his bed, he begged him "Dear Guru! I have no desire on Life, please tell me when will I die?"
Baba replied "Don't be afraid, you will get better soon, but I'm worried about Tatya. He will die on the coming VijayaDashami day. Don't till this to him".
Patil got better soon, but he was worried that Tatya will die very soon. As the VijayaDashami day approached Tatya got sick and his health kept deteriorating. Sai Baba's health also deteriorated as the Vijayadashami approached. Tatya was very sick, everyone thought he would definitely die soon. But a strange thing happened, Baba left body and Tatya lived. Great Guru had taken his disciple's Karma on himself.
Related content