God's Logic: Story of Krishna and Uddhava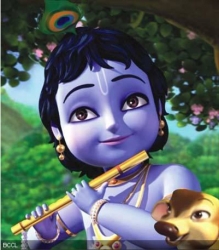 One morning, the Krishna and Uddhava went on a walk and they come across a rich man's mansion. Krishna said he was thirsty and asked Uddhava to fetch him some water from the rich man's house. Uddhava went to the house and asked for water. The man of the house invited them in, received them with respect and offered them cool refreshments. Krishna was pleased and, once they went out, he blessed the man with prosperity and even more riches.
They continued on their walk and came across a small hut, with a cow grazing in the background. Krishna again said he is thirsty and asked Uddahava to ask for water. Uddhava was suspicious that Krishna was up to his usual tricks but was reassured by Krishna that there was nothing amiss. Uddhava went and knocked on the door. An old ascetic opened the door and invited them in. When Uddhava told him that his friend is thirsty, the ascetic said regretfully that 'there was nothing in the house to offer' them. The yogi then exclaimed that his one dear possession, the cow, will not let him down. He milked the cow and offered fresh milk to his guests. Krishna gulped it down with enjoyment and thanked him.
They walked out and Krishna's hands moved up in blessing, "May the old yogi's cow die!" A shocked Uddhava found this difficult to comprehend. He questioned Krishna, asking him why the punishment when the yogi offered them the best he could. Krishna laughed and said that his blessings are always true and is based on the need of the individual and not on his 'desire' or 'want'. He went on to explain that the yogi was on the verge of reaching Him but his remaining attachment to his cow prevented him from attaining Mukti, the Ultimate Truth.
Related content