Names of wives of Lord Sri Krishna & little stories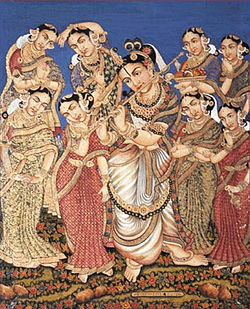 Lord Shri krishna chiefly had 8 wives according to scriptures, Different scriptures differ on the names of wives, praticularly on the names of Bhadra, Madri, Rohini and Kalindi.
Eight wives as listed by Bhagavata purana are:
Rukmini
Satyabhama
Jambavati
Kalindi
Mitravinda
Nagnajiti
Bhadra
Lakshmana
Nine wives listed by Vishnu Purana are:
Rukmini
Satyabhama
Jambavati
Kalindi
Mitravinda
Nagnajiti
Madri
Lakshmana
Rohini
Eight wives listed in Mahabharata are:
Rukmini
Satyabhama
Jambavati
Mitravinda
Nagnajiti
Bhadra
Lakshmana
Rohini
Harivamsha Purana lists these 7 as krishna's consorts
Rukmini
Satyabhama
Jambavati
Mitravinda
Nagnajiti
Madri
Lakshmana
NOTE: Commonly mentioned names are in bold letters.
Rukmini: Rukmini is considered as the incarnation of goddess Lakshmi who wanted to be with her husband Vishnu on earth.
Rukmini was the daughter of Bhishmaka, the King of Vidarbha (even today the province is known by that name), Rukmini loved to hear from her maidens about Krishna's virtues, his charm, his prowess. she secretly had love developed in her heart for sri krishna. Her brother Rukmi was an ally of Jarasandha, he did not want to oppose Jarasandha (who was an enemy of Krishna) , Rukmi wanted her to marry his friend Shishupala who was also an ally of Jarasandha.

Rukmi arranged for Rukmini's wedding by convincing his father, who actually wanted Rukmini to marry krishna but was convinced by Rukmi to marry her with Shishupala. when Rukmini heard of this she wrote a letter to Krishna of her love for him and her brother's plans and sent it to Krishna through a brahmana. She suggested that he may kidnap her on her way to temple or back. Krishna after reading this letter, at once left for Vidarbha along with his brother Balarama.

Meanwhile Bhishmaka heard about Krishna's arrival and happily prepared a mansion for Krishna to take rest on his way. Jarasandha doubted that krishna might interrupt the wedding of Rukmini with Shishupala and thus sent his army and allies to Vidarbha.

Rukmini went to the temple but could not see Krishna anywhere, she prayed to goddess Parvati that Krishna take her away. When she stepped out of the temple she saw krishna waiting for her. He took her away in his chariot and started driving away. When other kings noticed it they started chasing Krishna.

Balarama stopped them all except Rukmi who was already too close to Krishna. He engaged most of them in the fight. Rukmi chased Krishna and started fighting with him, Krishna defeated Rukmi in the fight and when he was about to kill Rukmi, Rukmi interceded and begged for her brother's life. Thus sparing his life Krishna drove away to his capital Dwaraka
Satyabhama: She is considered to be the incarnation of Mother earth.
Satyabhama's father Satrajit owned a divine jewel called syamantaka. Krishna told Satrajit to send the jewel to Ugrasena so that it could be guarded safely. Satrajit's brother prasena took the jewel and went for hunting, he was attacked and killed by a lion, meanwhile Jambava (who lived from the time of Sri Rama) took the jewel and gave it to his daughter to play with.
When satrajit heard of his brother's death and missing syamantaka he accused krishna of it. Krishna went in search of syamantaka so that he could clear the accusation, he found the jewel with Jambava. they fought for 28 days for the jewel, Jambava finally surrendered and recognized Krishna to be the incarnation of Rama. and prayed him to marry his daughter. Thus Krishna married Jambavati.
Krishna returned the jewel to Satrajit, when satrajit came to know of the happenings he asked Krishna's forgiveness and gave his daughter Satyabhama's hand in marriage to Krishna
Jambavati: Daughter of Jambava
Kalindi: She is considered the daughter of Surya (sun god), she is considered as the deity of river Yamuna.
Once Krishna and Arjuna were hunting and resting along the coast of Yamuna. They see a young girl walking on the banks, Krishna asked Arjuna to enquire who she was, when Arjuna asks her who she was she says she is the daughter of Sun god and was in penance and is desiring to marry Lord Vishnu.
Thus Krishna marries her
Nagnajiti: She was the daughter of Nagnajita of Kosala, the king Nagnajit had taken a vow of giving his daughter's hand in marriage to whoever tames his 7 bulls and puts noose on them successfully. Many had tried but failed.
When Krishna heard about this he went to Kosala, he was greeted by the king and worshipped by him, When krishna expressed his intent to marry his daughter. He mentioned the task that Krishna has to complete before having her hand in marriage. Krishna assumes 7 forms and tames all of them at once, thus takes her hand in marriage.
Mitravinda: She was a cousin of Sri Krishna, her brothers wanted her to marry Duryodhana and arranged for a Swayamvara, but they had not invited Krishna and Balarama, Balarama knowing of Mitravinda's affection for krishna advised Krishna to abduct her. Krishna being not sure of Mitravinda's wishes took his sister Subhadra with him, who talked with Mitravinda and conformed her love for Krishna. Thus knowing of her affection for him, Krishna abducted her and married her.
Lakshmana: Lakshmana's father the King of Madra had arranged for a swayamvara, where the archer had to shoot the target to win the hand of bride in marriage, Among all the princes gathered, Duryodhana and Jarasandha miss the target while Krishna hits the target. Arjuna misses the target intentionally.
Rohini: She is sometimes considered as Jambavati, other scriptures mention her as one among 16100 wives and as chief among them
Related content