Shirdi Sai Baba Name meaning and Origin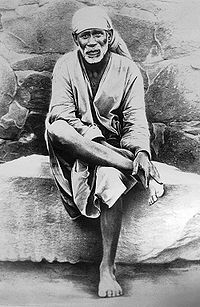 Chand Patil, a rich man of Aurangabad who had lost his horses asked an young man sitting under the neem tree if he had seen his horses. To the surprise of Chand Patil, the young man told him from his omniscience where his horses were at that time.
Chand Patil was pleasantly surprised to find his horses there, when he returned to see this miracle man, he saw the young miracle man creating fire and water from earth by tapping it with a tool.
The young man was requested to be a guest of Chand Patil, a contingent of relatives of Chand Patil travelled to Shirdi for a wedding, they took the young Fakir with them. When the young Fakir was near a Shiva (Khandoba) temple, Mhalsapati welcomed him saying 'Ya Sai', which meant 'Come Swami'.
People started to call him 'Sai' from then on, 'Baba' means either father/elder or Guru. Thus the name 'Sai Baba'. He stayed in Shirdi for the rest of his life, except occasional travelling to villages nearby.
Related content