Story from Swami Vivekananda: Face your problems & they will run away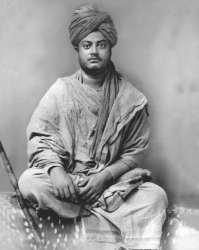 Swami Vivekananda was once visiting Saranath near Varanasi. While returning from Shri Durga temple few monkey ganged up on him, they blocked his way, he thought of running back and saw some more monkeys there. The monkeys attacked him screaming and making scary noises. swamiji wasn't sure what to do.
He felt a voice saying "Face them, face the animals." Swami now determined to face the monkeys, stared at them without fear, the monkeys ran away scared.
Swamiji used this story in his New York lecture to mean "Its a big lesson to our whole life. If we face our problems instead of running away from them, they will run away like those monkeys."
Related content