Legend of 'Saint Baba' Harbhajan Singh
Facts:
Baba Harbhajan Singh was born in 1941 in Sadrana, Gujjarawala district, Punjab, Pakistan. His family moved to India during the partition of 1947. He completed his Matriculation in 1955 in Punjab, India, He enlisted in the army in 1956, he was sent to Sikkim later, where he joined 18th Rajput. It was in Sikkim that he is believed to have died in 1968/69.
Legend:
It is believed that Baba Harbhajan was fighting the Chinese on his Horse in 1967, while fighting the fierce battle he got injured, his horse ran away to a far place, but it could not save him, he died of injuries. After 3 days Baba appeared in the dream of one of his friends working in the same regiment, Baba guided his friend and troops to his body.
His body was found stuck in the glaciers and was cremated with full military honours, Baba's spirit though never left the place, he would come often in his friends' dreams and instruct them to build him a place.
His friends built Baba a place to stay near Nathula pass, Sikkim, now the place has become a shrine.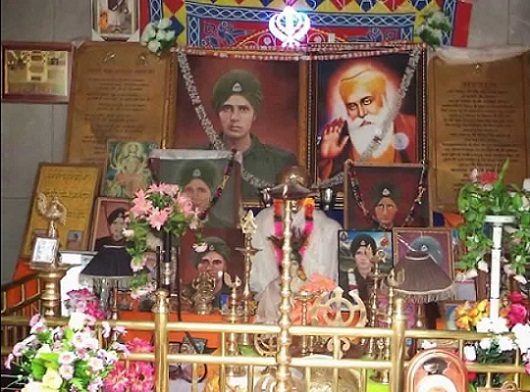 [Insides of the Shrine of Baba Harbhajan]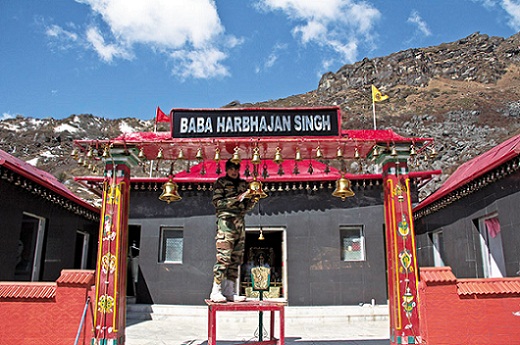 [Outside board of Baba Harbhajan's shrine]
According to the accounts of those who have served there, Baba still serves the Army in his Ethereal body. His shoes are polished and uniform ironed daily, they are believed to get dirty by the morning (he is on night duty),  Baba rides his horse across the line of control guarding the border. Whenever soldiers sleep on their duty hours Baba is said to wake them up. Baba has had promotions from time to time.
Baba is said to have informed soldiers 3 days earlier when Chinese were approaching the borders during skirmishes, Every year Baba takes leave in the month of september, Baba is dropped to the railway station on September 11the every year, his belongings are sent to his village in the train with a seat reserved for Baba. Salary is sent to his family every month.
An interesting thing about this legend is that even the Chinese revere Baba, During flag meeting between the officials of Indian Army and Chinese Army, a separate, empty chair is kept for Baba by the Chinese authorities.
Categories:
Related content